Boat School: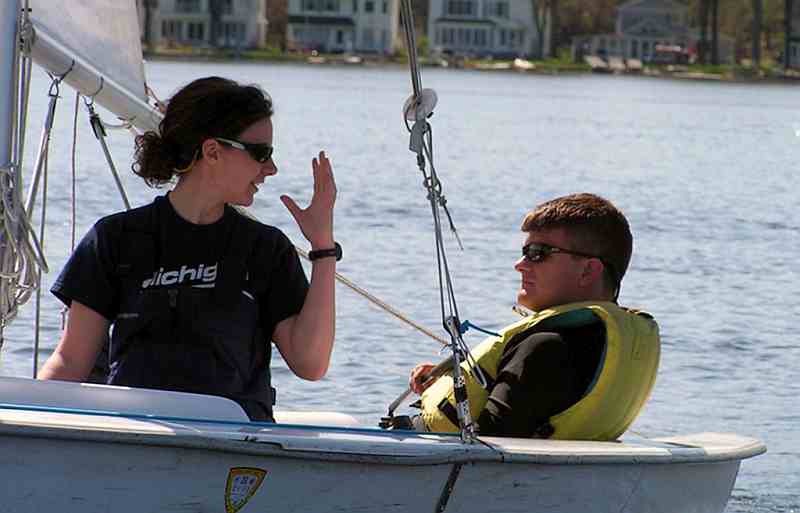 Most of our members do not know how to sail when they join. If this describes you, then you'll want to take advantage of our lesson program.
We offer on-the-water lessons every Saturday from nine to noon. For the 2017 season, Saturday boat school will begin on May 13th and end on September 30th. Our lead instructors have completed a rigorous training program and are US Sailing certified. The program is self-paced, so you can start at any time and learn at whatever rate suits you. Just show up at nine and put your name on the lesson list.
We also offer lessons on Tuesdays (starts on May 2nd) and Thursdays (starts on June1) at 6pm – this is a more structured six-week class where you are expected to come every week; if you need to  miss a week, arrangements can be made to make up the lesson you missed .
We offer introductory lectures on a regular basis. Check this page: Boat School Schedule on the website for times and dates.
Our learn to sail book is "Learn Sailing Right" and is available for purchase at the club for $10. Purchase is optional – we have copies in the boathouse that you can read.
If you are a beginner it is best to arrive at 9:00 am to attend the basic sailing lecture. Please email the vice commodore Meg Gower if you plan to attend.
We also offer advanced sailing clinics throughout the season, usually on Saturday or Sunday afternoons. Check our schedule for topics.
Shore School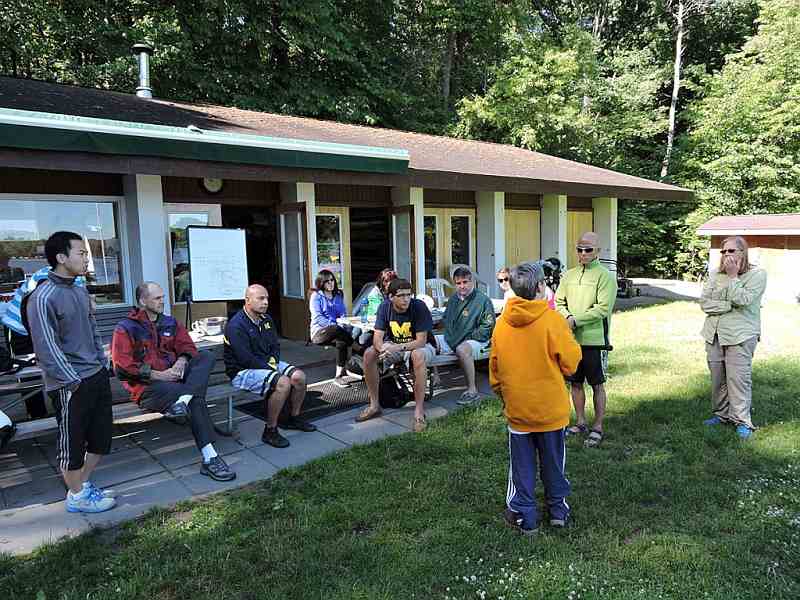 Each weekend, we present lecture/demonstrations on a variety of beginner and advanced sailing topics. You may attend anytime, since most lectures do not require previous knowledge.
Introductory lecture/demonstrations take place at 9:00am every Saturday. Intermediate/ advanced topics and clinics take place Saturday afternoons (and sometimes on Sunday after racing).
Check this page: Boat School Schedule to find out what subjects will be covered and the times for the clinics. Please email the vice commodore Meg Gower if you plan to attend.
Open Sailing
We'll plan on unpacking and rigging boats on April 22nd. Saturday Boat school will start on May 13th. The club is open, weather permitting, all day every Saturday and Sunday from May through October, and weekday evenings after 6:30pm during the summer. The boats are available to all members on a first-come, first-served basis, except during instruction and racing.
In order to ensure the safety of everyone using club facilities, we maintain a rating system for members. Boat may be sailed with a rated member aboard or with permission of a club skipper.
Ratings are a guide to personal progress as well as a means of regulating the use of club boats. A Basic, Key, or Skipper rating represents an elementary, intermediate, or advanced level of small-boat seamanship.
You can earn a rating by participating in the instruction program on Saturdays.